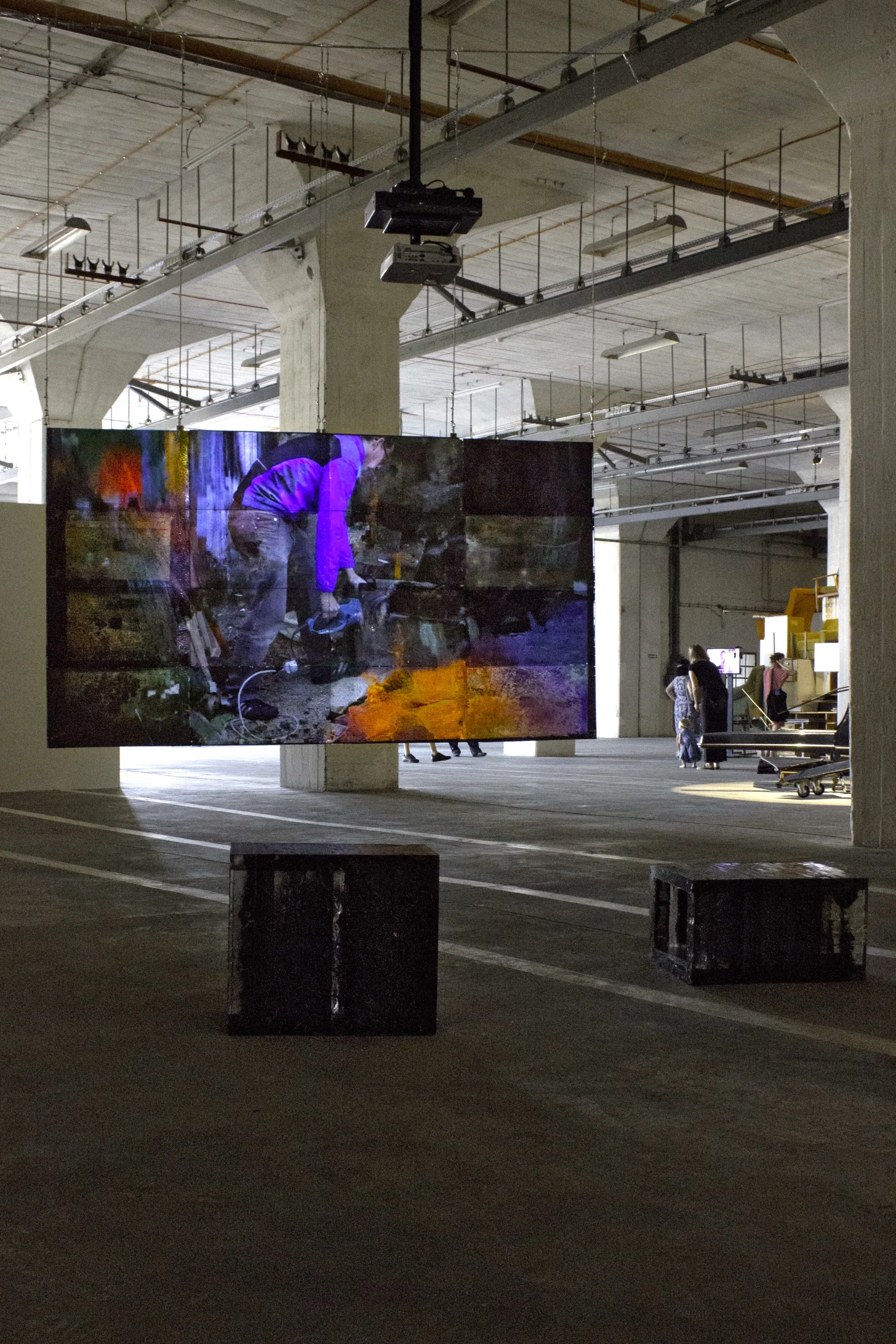 The Shed - AK9
ghost |gəʊst| - a slight trace or vestige of something
site |sʌɪt| - a place where a particular event or activity is occurring or has occurred


"In January 2012 AK9, an artist run studio space in Amsterdam, burned to the ground. Thick black smoke caused traffic jams on nearby highways, airplanes approaching the city airport had to take alternative routes and the event was covered by several newspapers and TV channels: Surreal indeed, like an act of war that happened somewhere else.
       
Everybody got out just in time.
       
The reason for the blaze was never found and the ground that once belonged to AK9 has been taken over by a neighbouring company. AK9 neither was insured, nor legally protected in any other way. It disappeared with everything in it.
The only failsafe for the victims was a network of people supporting each other."
Alternativa 2016 | Damage & Loss
Gdansk, Poland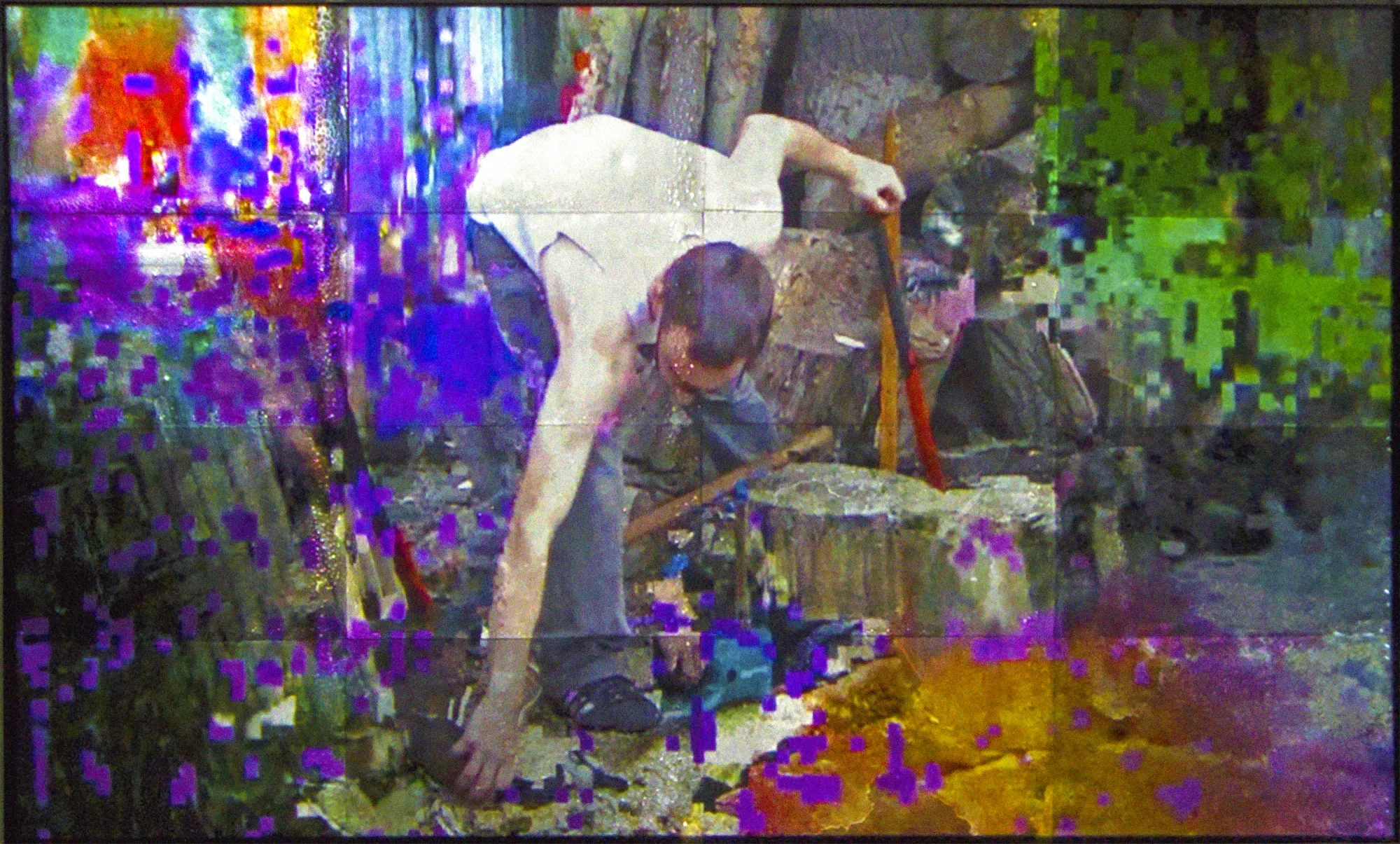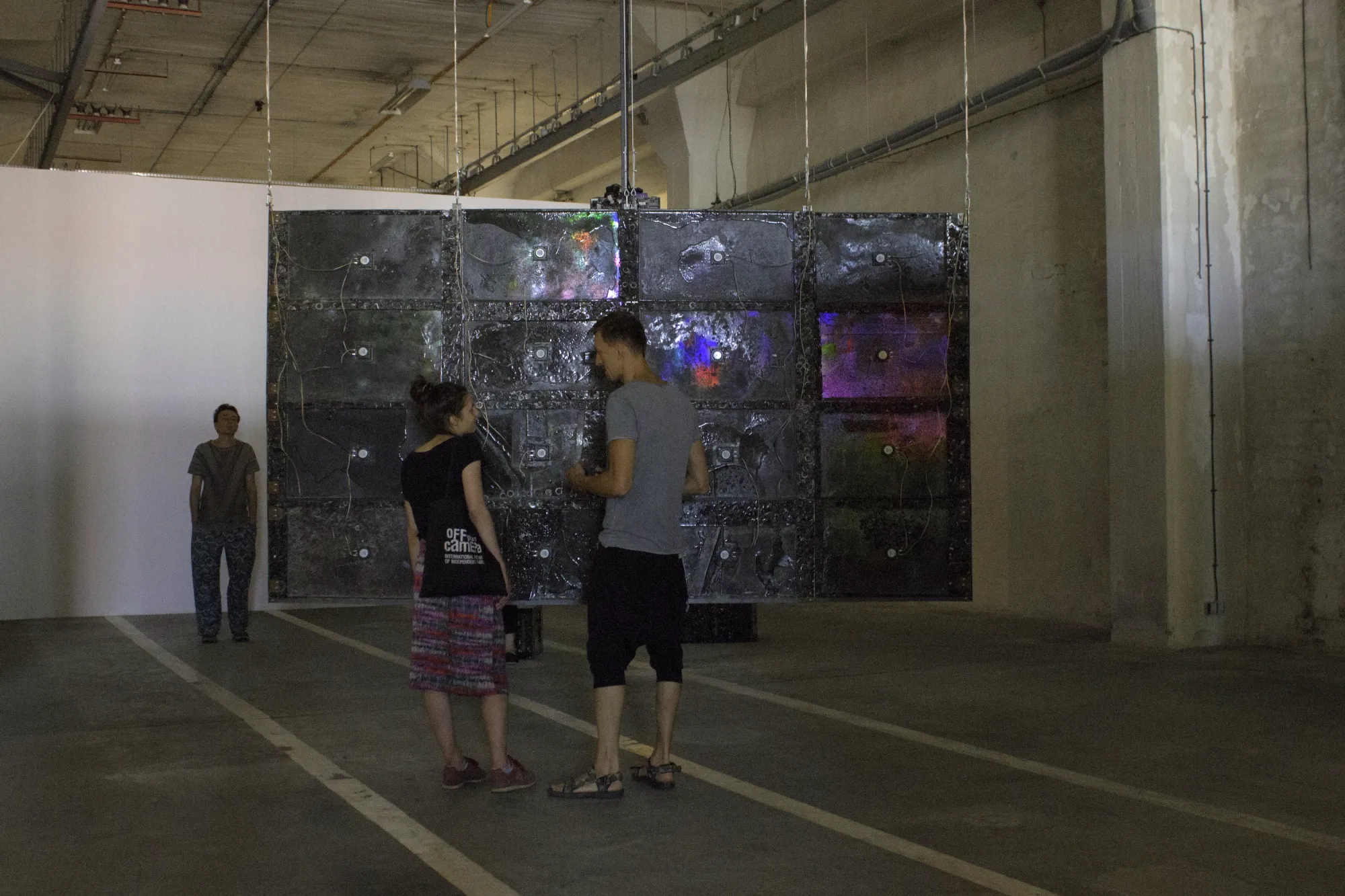 ---
AK9 - Shifting the Territory
2014, Daniel Vollmond, MFA Goldsmiths
When I first arrived in the city, I was pushed into a corner. The rent for a tiny room in a small shared apartment in Amsterdam was too high for me to afford and cheap student housing was just not available at the time. Still, I had to manage somehow: For about two months I slept in my old Volkswagen Polo. I had to move around frequently in order to keep a low profile. Most of the time I was parking for free next to an industrial estate, always afraid to be discovered by the authorities. There was an overground metro station nearby that I could use to go to university. I never expected it to be that hard to find an affordable place to live and I rarely felt that lonely before. Even though I had done nothing wrong I felt like a criminal on the run.
During the day I went to university, the nights I spent with a group of young Italian squatters. We were looking for empty houses that we could occupy. Yes, we started to do this out of necessity, because we felt marginalized and our choices were limited by difficult circumstances, but soon our desperation changed into the conviction that our attitude was not just survival instinct but rather an act of defiance, a refusal of the many ways society as a whole organizes itself. We simply needed more space to breathe.
At the same time 'making art' was our refusal to work in an established hierarchy, to be employed by a boss. The way we found each other, our desires, our sadness, our individual capacities and a shared openness toward each other, formed the basis of our 'commune'. Eventually we squatted a derelict house in the city centre. Yet for me the larger squatting community turned out to be a dead end as well. There was an inherent mistrust against outsiders, whom they either suspected to be law enforcement or undercover neo-Nazis. Trust had to be earned...
Eventually I met another group of like-minded people and together we started to live in a warehouse that we turned into studio space: AK9, several hundred square meters of concrete floor, a roof and thin walls made from corrugated metal sheets. Back then the space was in a pretty bad condition and it was illegal to live there. Yet for us AK9 became more than just a home or an artist-run studio space. Here we organized our life like a 'commune' in which people try to find alternatives to how things are supposed to work and thus considered to be 'normal'. Together and without much money, we constructed walls and devided the space into independent units, we reinforced the insulation and wood burning stoves were fit in to keep the place warm during the winter. We also built a shower and a communal kitchen, and the ceiling was cut open to let the daylight in. Electricity and internet followed. There was absolute freedom to do whatever we felt was necessary to change the space according to our needs.
And the same kind of freedom existed in the organisation of our lives. Most of us were semi-chaotic and young, navigating grey areas of the law in order to maintain our self-sufficiency. We preferred to collect Euro Pallets and trash furniture from the street and to chop wood to feed our stoves, instead of being dependent on an energy supplier.
The parties at AK9 were legendary. Our naïve enthusiasm and energy was the spark, while the flexible division of labour, the ability to learn from our mistakes and the use of our imagination allowed us to free enough time and mental space for each one of us to think, to be creative, and to work autonomously.
Yes I agree: AK9 never was perfect. The natural human tendency to form hierarchies often caused conflict. There was no specific framework of rules and until today some of us believe, if AK9 ever developed a clear social structure with a defined set of rules, it would have lost its spirit. It would have become just another institution. Despite the occasional friction, the most important aspect for all of us was a sense of solidarity in AK9 that is hard to find elsewhere and - as paradox as it may sound: a 'commune' that both allowed and enabled us 'not to belong'.
This is why I sometimes wonder wether it is possible to take a conscious position of not belonging to the society that surrounds us in order to maintain a critical distance toward it. Perhaps it might even be absolutely necessary if we want to take back agency over our lives. AK9 as a space is gone, but its spirit is not lost: an interlinked network of individuals who share a similar attitude can be understood as a 'commune' in a much broader sense of the word. Even though divided in space, maybe because of this very division, there always is the potential to become this flexible, organic, ground shifting territory we are dreaming of.
Daniel Vollmond
London, 2014
AK9
Loop (14:25 min)
The Shed - AK9
† 17.01.2012
"Two days after it burned down I had a dream - of this massive black horse, galloping round and jumping. Leaping up on all the burned rubble and... Like just - full of energy! And then it just gallopped off."
Anna Keen
November 2015 / Saint-Dalmas-le-Selvage, FR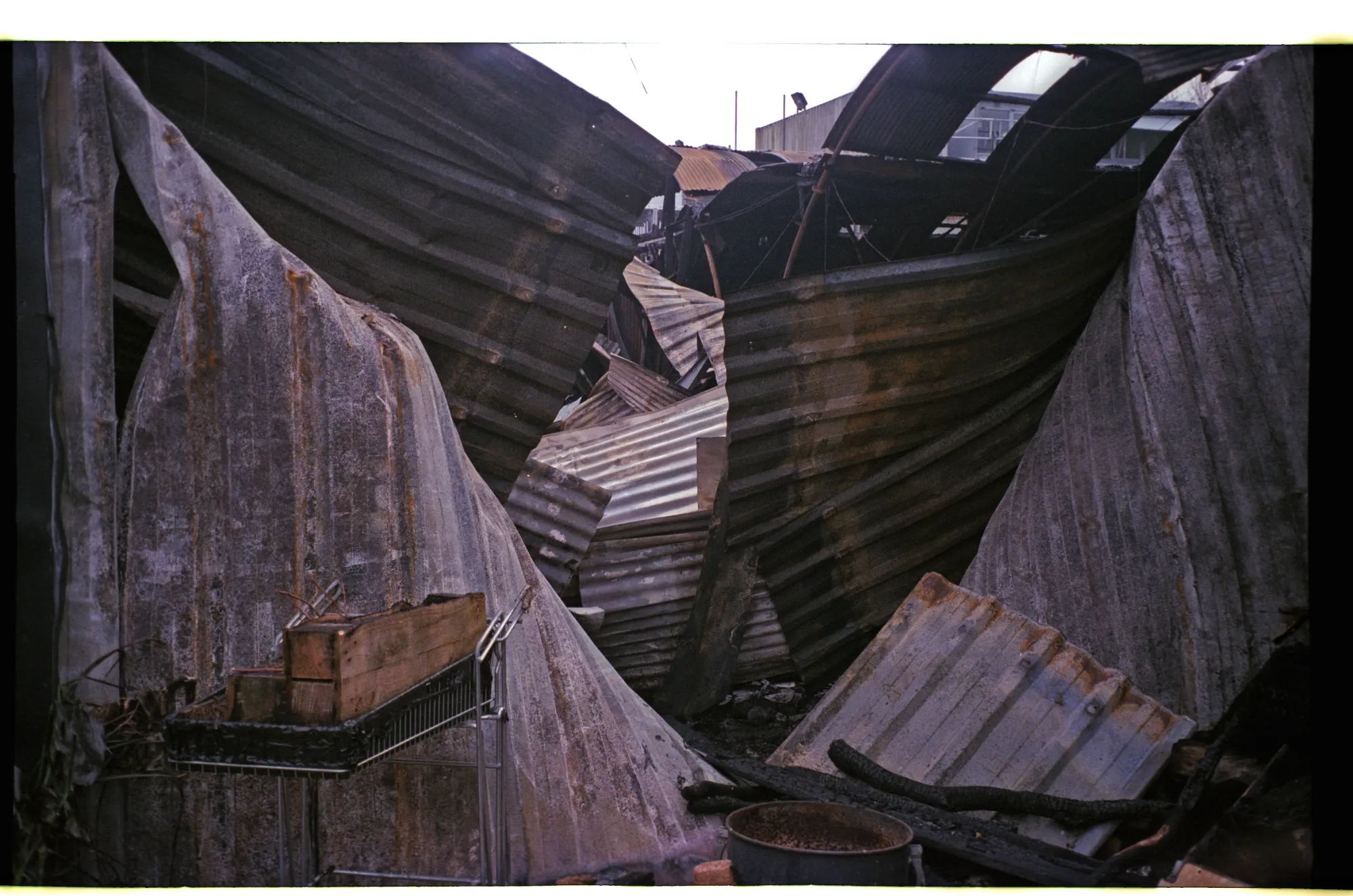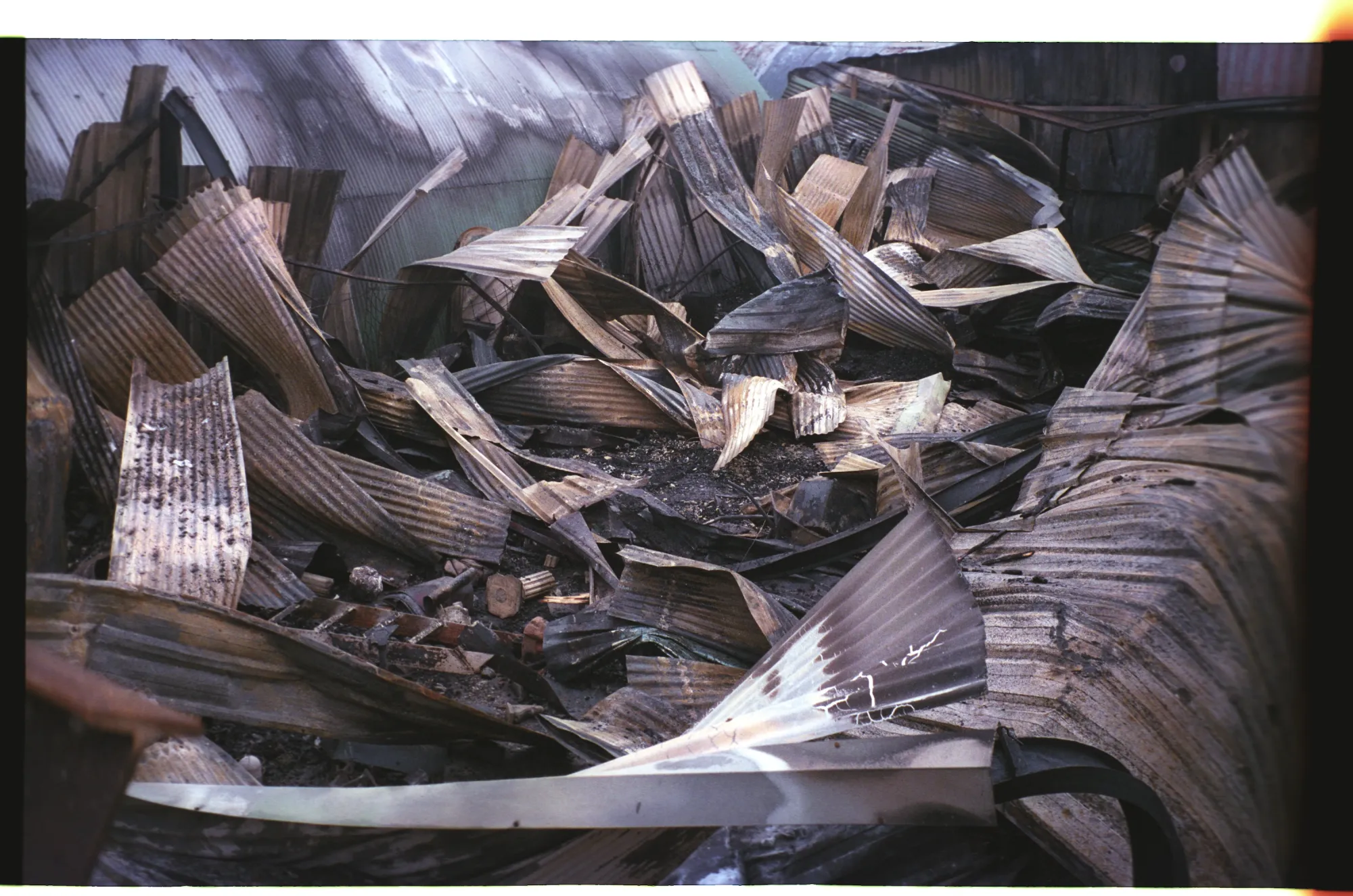 As an installation AK9 is composed of fragments that contain everything that is left of the space. AK9 now exists as a ghost site: an embodied presence that resonates with its former existence.
Physical Remains: 16 individual panels can be assembled into a large projection screen (180cm x 320cm). The screen and two seats (65cm x 50cm x 35cm) are made from burned objects - Daniel Vollmond's former belongings - cast in resin, which are the only physical remains that are left, since the rest of AK9 went into a landfill. It is an architectural space, reconfigured and reshaped, made to show an edited version of a digital archive of damaged video clips that were shot inside AK9 before it disappeared.
Digital Archive: The Video Loop (14:25 min) appears damaged and incoherent, full of colourful glitches and digital fragments. The individual video clips had to be recovered from a broken hard disk. A large portion of the recordings could not me recovered and are now lost.
Living Memory: Bits and pieces of conversations between former residents add a layer of living memory.
The projection screen itself functions as a speaker that emits the sound of the piece via 16 sound transducers that work with the vibration of the material they are attached to.
---
Material:
Projection Screen (3.2m x 1.8m): 16 individual panels with 16 Sound Transducer Speakers, 2 Seats (weight: ~90kg / each): made from burned remains of AK 9, cast in Polyester Resin
Single Channel Video, 2-Channel Audio / 14:25min
Alternativa 2016 / Damage & Loss
24.06. - 25.09.2016, Gdansk (PL)
An exhibition curated by Anna Nawrot, Lívia Páldi & Aneta Szyłak

Participating Artists:
Anna Baumgart, Ursula Biemann, Karolina Breguła, Karolina Brzuzan, Ella de Burca, Gabriella Csoszó & Lívia Páldi, Daniel Dressel, Dariusz Fodczuk, Ingela Johansson, Zuzanna Janin, Sven Johne, Hiwa K, Anton Kats, Anna Królikiewicz, Honorata Martin, Hanna Nowicka, Ekta Mittal, Rozhgar Mustafa, Anneè Olofsson, Agnieszka Polska & Witold Orski, Salam Atta Sabri, IM Heung-soon, Katarina Šević and Tehnica Schweiz (Gergely László & Péter Rákosi), Dominika Skutnik, Mariusz Tarkawian, Milica Tomić, Mariusz Waras

Alternativa 2016
Hall 90B / Former premise of Gdansk Shipyard
Gdansk
Poland